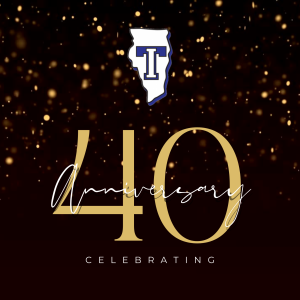 Please join us in celebrating 40 years of serving the Chicagoland hockey community!!! We are excited to share the article on the AHAI webpage about the next chapter of Team Illinois. See the article by clicking the link or reading below…
https://www.ahai.org/news_article/show/1280036
---
Celebrating 40 Years
---
TEAM ILLINOIS SET TO HONOR ITS PAST WITH LEADERSHIP FROM FORMER STANDOUT PLAYER SEAN FREEMAN
There's a retro feel and look at Team Illinois this upcoming season, rightfully so.
The official 40th season for TI was during the COVID-19 pandemic so the club didn't have a chance to properly celebrate and honor those who have been instrumental in the storied success of the AAA program.
So this season, as TI celebrates 40 years, the club is bringing back the original Team Illinois logo on one of their three redesigned jerseys and every team will wear the original logo blue throwback jerseys for home games. Jerseys also will feature a 40-year patch.
"From the beginning, Team Illinois has had great leadership (from individuals) who were generous not only with their finances, but their time as well. We are grateful to all those over the last 40 years, including Mickey Norton, Jim Marchi, Jeff Kane and many more who we are grateful for; all have contributed significantly," said Sean Freeman, the Team Illinois hockey director and president – and a former TI player about 35 years ago.
"Team Illinois and the Chicago Young Americans both came into inception in the early 1980s. The CYA program no longer exists, but we proudly continue the tradition of representing Chicago and Illinois by making sure players have fun, develop, play hard, play fast and are good human beings on and off the ice."
Freeman, 47, who lives in Highland Park and is the president of Twenty9, Inc., is entering his first full season as the TI president. He skated into the role last October.
He first skated for TI in 1987.
This season, the longtime local coach serves as the head coach for both the TI U16 boys and the 2012 peewee minor teams. Freeman took over the head coaching role of TI's U15 boys' last season after the team opened with an 0-14 start. They went 31-26 under Freeman, finishing the season with a 31-40 mark.
"It's an honor and privilege to serve this club, the players and families," Freeman said. "We earn their trust every day and work just as hard tomorrow as we did today to do everything we can to help move players on to reach their hockey dreams."
Freeman is one of many accomplished coaches leading TI teams this upcoming season. Others of note:
Sean Berens brings a wealth of knowledge, energy, skill development and is a key asset to the Team Illinois program.
Jack Hickey is TI's in-house goalie coach who has done an amazing job, Freeman said.
John Wallin is a key contributor in many aspects and has been around the program for decades.
Brian Seery also has been around the program for decades and his experience has been a huge help for Freeman throughout his transition, he said. "I am very appreciative of all the time he has given and the passion for the program that he has shown."
Rick Mack (2010s) is a longtime skills coach who "earns player's respect and gains credibility immediately, and he has great knowledge in all aspects of the game," Freeman said.
The TI coaching roster this upcoming season features many others of note, such as, Rob Hutson, who Freeman tagged as "a huge addition who has helped significantly on and off the ice." In addition:
Michael Herbert, the 2009 head coach, has experience on multiple levels.
Blake Sorensen is one of the best local youth coaches, who has had stops with the Glen Ellyn Flames, Robert Morris University, Chicago Mission, University of Illinois, Aurora University, Latin School of Chicago and Loyola Academy, among others.
Stu Gould, one of the club's directors of goalie development, has among the most years of goalie-specific development in the country.
Sam Mannion, with the 2010s, is a skilled motivator and player's coach.
Ian Mack with Tomahawk Science is a world-class coach who has taken over TI's off-ice conditioning. "The players' growth from working with Ian can't be quantified," Freeman said.
Tristan Musser is the club's on-ice skills lead.
Peter and Chris Ferraro are additions to the club with knowledge from Tier 1, Junior A, Division I and professional hockey. "The Ferraro brothers help coach the '07s and '08s, run skills skates, bring passion and energy, leadership and we are so very excited to have them with us," Freeman said.
Sanya Sandahl is TI's new girls' hockey director who also coaches the club's GU16 and GU19 teams. "Sanya also works with our goaltenders and is a pro's pro," Freeman said.
Julie Sochacki is a significant addition to the coaching staff who will coach the GU14 team. "Julie is someone I rely on to help build the club," Freeman said.
Brooke Meyer is coaching the girls' U12 team and is a great developer of talent and culture. "Having Brooke join our program is a game-changer with long-term positive development for all in the Team Illinois program," Freeman said.
"Dennis Anderson coming on board and bringing back Jamie Carroll were pieces to the puzzle we had to have and are very blessed to have them at TI," Freeman said.
"We are committed on the ice, off the ice, in skill development, in off-ice development, player advancement, goalie skill development, more ice and one of the best coaching staffs in the country," Freeman said. "We all want to bring Team Illinois back into the forefront of Tier 1 AAA hockey, not only in the state but across the country," Freeman said. "We have made a financial commitment second to none for the direct benefit of all players while they matriculate through the club, thus we are able to help build the program and place our players at the next level. For each player, there is a different dream and different level to aspire to. Our goal is to make sure we do all in our power to help players reach those goals, whatever that goal may be.
"Team Illinois is all about the culture, with quality families, love of the game and players committed to getting better every day. We are strong in high-end coaches, on-ice skill coaches, goalie development, off-ice development, more ice and resources to develop our players. As a collective group from the players, families, coaches and staff, we are strong."
Freeman will lean on his playing success to return Team Illinois to local and national stardom. He played five years for TI and the Chicago Young Americans before moving on to the USHL, playing for both the Sioux City Musketeers and Wisconsin Capitals.
Freeman also played in the NAHL for the Springfield Jr. Blues and the Kalamazoo Jr. K Wings.
His playing career also included four years for Lake Forest College, where he was a captain and led the team in scoring all four years.
Freeman's pro career included time in the ECHL, UHL, WPHL and CHL.
Freeman has been a successful, high-level coach, too.
The three seasons prior to joining Team Illinois, Freeman was the head coach for multiple CYA teams.
His coaching career has included time with the Windy City Storm and Chicago Bulldogs.
He has been the head coach for two teams a season or more for the last 20 years.
Freeman's coaching resume also includes time with the Falcons and he was the hockey director and varsity head coach for Highland Park High School for 18 seasons.
His two sons (Ronan and Levi) now play for TI's U16 and 2012s, respectively.
"Hockey needs to be looked at like a staircase. Nobody can jump up six steps at a time or leap a floor. You have to earn what you get and get what you earn," Freeman said. "If you can climb a step on the staircase daily, the sky is the limit. I'm here for every player and am all in, in every way, every day, to making sure all in the club with their commitment to hard work have what they need to grow into the players they aspire to be.
"We hope all our players play college, pro or both. But knowing if we did a good job (training them) is determined years down the line,
The TI legacy is incredible, to say the least. Eddie Olczyk, Kendall Coyne Schofield, Craig Anderson and Tommy Wingels are a few who have worn the Team Illinois uniform. Other former TI players include Garrett Sparks, Jackie Kooistra, Lisa Chesson, Scott Darling, JT Compher, Jared Boll, Ryan Dzingel, Michelle Radzik, Jim Marchi, Scott Orzoff, Franky Simonelli, Troy Groesnick, Lane Hutson and Anthony Lewis, among others.
"I truly love every day representing the Team Illinois program and can't wait for the season to start," Freeman said. "The staff we have assembled and the financial commitment with support of the board is tremendous. We all are looking forward to being a part of the next 40 years for Team Illinois, youth hockey in Illinois and simply growing the greatest game in the world."
---